Fiverr gig images, the minimum recommended size is actually 712 pixels wide by 430 pixels tall.
Tips to Create High-selling Gig Image Size 2023
1) Keep it simple
Your Fiverr thumbnail image should be simple as it is easier to understand a simple visual. Buyers will like to get in touch as they will feel comfortable buying the gig which gives a clear description. Don't only focus on Fiverr gig photo size but it should be attractive and simple too.
Recommended: 45 Mistakes on Fiverr with Solutions
2) Keep less words inside the gig image
The shortest possible description of your services in the gig images is the best thing. Narrate your services in the least possible words so that it does not take much time for the buyer to know what you offer. Fiverr Gig Image Size
3) Use Creative Colors
A gig image that is fully cluttered with images would not convert better. Keep the colors of the gig image as minimum as you can. Use the right color combination and do not make you gig a rainbow of colors.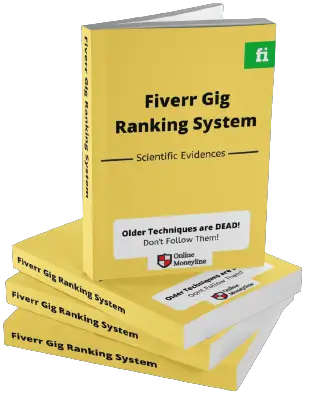 Unbelievable 30% OFF & 100% Money-Back Guarantee!! Till June 30th, 2023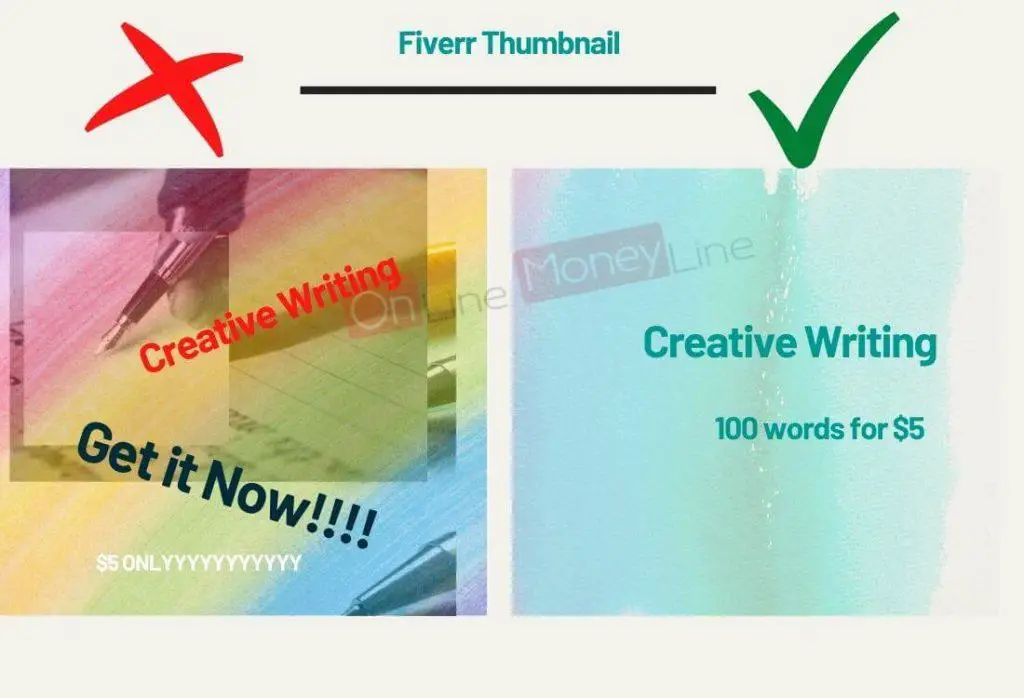 4) Keep Fiverr Thumbnail Professional
Your professionalism should be clear from your gig. Add only the strong points in the Fiverr thumbnail as that is the first impression of gigs.
5) Badges NOT Allowed
According to Fiverr, it does not allow badges and it focuses only on showing purely your own services in the image so the best bet to create Fiverr images is to keep it simple to avoid Fiverr restrictions.
6) Clickbait NOT Allowed
Clickbait will and will definitely be a big no-no for the Fiverr cover for gig. After putting some clickbait text, you will be alerting the Fiverr moderation team to deny your gig or to pause it and you will have to make it from the scratch.
7) Aesthetics Of Fiverr Gig Image
It's important to have a photo that's crystal clear. Avoid any pixelation, fuzzy, stretched, or squished picture at all costs. The picture must be high-quality and enticing to the consumer.
Thumbnails for Audio and Video
A video or audio clip may be added to your gig thumbnail for enhanced visual appeal. In this scenario, you must utilize your own material or commercial content that has been approved for publication.
8) Right; I mean Copyrights
Consider intellectual property rights (copyrights) before utilizing commercial photos and movies. Do not utilize someone else's stuff without their express consent. If you want to use the content for commercial purposes, verify the copyright status of the material.
9) Applicability
It's important for buyers to see your Gig thumbnail and Gallery photographs in order to decide whether they want to hire you for their project. Your reputation in the community will be ruined if you post photographs that are irrelevant to your gig or yourself.
10) Disclose No One's Phone Number
In accordance with Fiverr's rules, please do not include any kind of contact information in your images. All contact must take place on the Fiverr platform.
11) Only in the event of absolute need
Avoid utilizing too many example photographs and just include those that are relevant to your job. In order to effectively display your work in your thumbnail, it's important to choose a video that completely represents your work. Fiverr has also endorsed this.
12) Do not re-use images
Avoid reusing photographs since it will eat up valuable gallery space. Make sure your photographs are original and gig-accurate to show off your abilities and experience.
13) Face the Camera
Seeing who is working with them gives buyers a sense of security. Having a confident, attractive face is a terrific marketing advantage. Using a high-quality photo of yourself for your profile and gig is, thus, strongly suggested.
14) Image SEO Done Right
When producing your gig image, choose a resolution of 1280 x 769 pixels and a file name that will come up in search results related to your concert.
15) Contextually Unacceptable
According to the Fiverr Community Standards, anything that is deemed objectionable, such as adult material, hate speech, distressing imagery, discrimination, false news, etc., is absolutely forbidden.