Being a blogger and a freelance writer, I come across a number of experiences that pulled my mind back. There are a number of blogging myths that every blogger should know. So, we decided to share some blogging tips that can take your earnings to the next level.
Myth 1. Only Writers Are Good Bloggers
No Way!
Every writer cannot be a good blogger and the same is the case with those who do not know how to play with words.
See, blogging is a different field than writing a book. It does not consist of writing articles only. It has no connection to being creative it is not mandatory (still a plus point) to be a creative writer.
If you are a good writer, you must not be aware of SEO, Website Designing, Digital Marketing or Website building process.
A blogger needs to know all the things as you cannot rely on paid services all the time.
But don't worry. Only a surface knowledge of all the above can make you a good blogger. You will get experiences with the passage of time.
Blogging Writing Tips
Tip 1. DIY
Select any language you want to start blogging in and start writing. Do not think of being extra shinny; just share your straight and honest views, people like it.
It was a do it your self technique!
Now, let's see the other side.
Source: Orbit Media
Tip 2. Hire Our Suggested Writers
You can hire a writer from our platform or you can either go for some freelance writers on freelancer.com and Upwork.com.
We have been working with these writers for years. They are tried and tested. It is better to hire an already tried writer than to make new experiences.
They can handle multiple niches and know Advance SEO techniques. They provide 2 free revisions and are affordable as well.
Tip 3. Hire A Writer From Freelance Website
Visit top 25 freelance websites for writers and hire the best writer for your blog.
See all the freelance websites are not the same in terms of quality. There are good and bad freelance writers and they can either make or break your blog.
So, handle it with care!
Recommended: Freelancer Vs Upwork

Recommend: Make Money Blogging on Medium.com
Hire Professional Writer Just in $5
Myth 2. Content Is King
This is controversial!
Still one of the most discussed blogging myths.
But here we share our personal experiences.
You must have listened to it times and again that Google prefers the best content but do you know that Google has 200 different ranking factors?
Thinking that the audience will start coming to amazing content automatically is a myth.
You will have to share your content to get traction so that the search engine can notice your blog and send some traffic to it.
Yes! Organic traffic is a reality but it takes ages for robots to come to know that your content has value.
Google is improving with the passage of time and I hope this problem will be solved in the future.
Traffic Tips For Bloggers
Tip 1.DIY
Watch videos and join courses on digital marketing to get more traffic and traction. It is a bit of an investment but you will really find a good return.
More or less, earlier or later, you will be required to know digital marketing yourself; why not start it today?
Tip 2. Hire A Freelance Marketer
This is the same as writing. You need traffic for your blog and for this, you need to hire a writer. You can get great digital marketers from top freelance websites.Hire Marketer Just in $5
Myth 3. Write Long Blog Post Every Time Blogging Myths
No way!
Every topic does not need thousands of words and hours of effort!
There are some topics that satisfy the buyer's intent in just 500 words while some others need thousands of words to make meaty content.
See SerpIQ statistics regarding content length in an average post.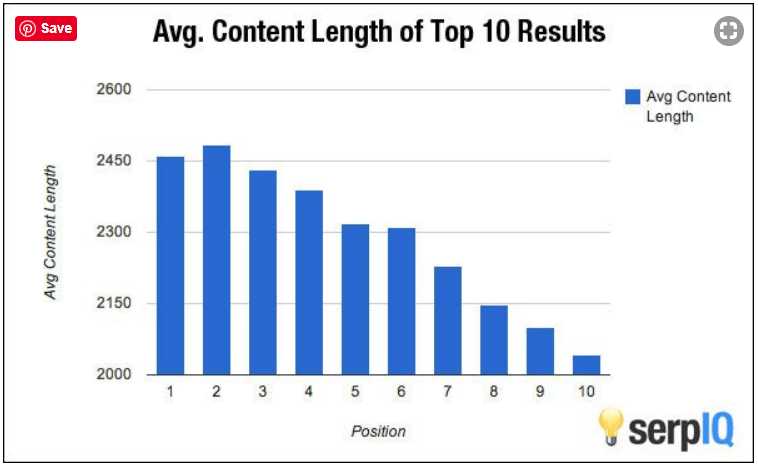 What does it imply?
It's simple. Your content should have more than 2000 words but again if your content is giving the answer to the question to the visitor then do not go the extra mile. Visitors won't prefer reading that.
Tip 1. Blogging Tips For Content-Length
See the word count of the top 10 ranked articles about the topic.
Take an average word count of all those posts and write something bit more than the average. It is the best method to know the word count of the post while starting a blog. By the way, only word count does not matter; content quality is a better ranking factor as Google keeps an eye in the content depth.Hire SEO Specialist Just in $5
Myth 4. Invest In Ads – The Worst Blogging Myth
Do you think that the drainage of a lot of money toward your favorite ad network will do marvels and your blog will start getting traffic overnight?
Wrong!
It is a reality that ads work but not every time. You should have a deeper look at how ads work for your business and it is worth spending some money.
You can make money even with a small blog that has memes.
Blogging Tips While Using Ad Networks
Tip 1. Test Traffic Sources Of Competitors
See what are the traffic sources of your competitors. (Do I need to say that you will have multiple competitors based on the keywords you are targeting?)
Well, spy their strategies!
If they are really making money from adverts then take the decision to invest a bit.
Blogging Tip 2. Test Ad Networks
Test multiple networks and do not ignore the changing marketing value of different platforms. Here is a screenshot that you can take into consideration to make an informed decision about your ad placement in some specific forum.
You can see that Pinterest traffic is increasing at a rapid pace. Hire Professional Ads Designer from 99Designs
Myth 5. Copy What Other Bloggers Are Doing In Your Niche
See, blogging is a unique experience for everyone and you cannot get success after replicating the same process that others do.
There are different situations and capabilities which every person is having. So, there must be some obvious things which your competitors are doing but most of them remain hidden which you can explore after very deep research.
Here is a baseline that you can follow to take your blog to the next level.
Competition. Blogging Tip 1
Never go straight to the highest competition or even to the medium. Start from the low competition and then once you start getting the audience then start focusing on higher research volume keywords.
However, if you already have some audience and you are a social influencer then we would not recommend you go to the low competition. If an already built audience starts coming to your blog the Google will come to know and will start ranking your blog even on higher search volume keywords.
Competition. Blogging Tip 2
See the social media strategy of your competition and navigate which channel is getting the most traction. We do not recommend following the exact match strategy; just keep an eye and try to implement if it works.
If it does not work then make an informed decision and switch to the other social media platforms.
Here, we have added the engagement rate of Facebook posts which you should expect in the mentioned fields.
Information Source. RivalIQ
Myth 6. Never Opt For An Already Explored Niche Is A Myth
Does your favorite niche have a lot of competition?
So What?
See, it is not about niche either it is over-saturated or not!
It is ALL about the efforts (and patience) you invest in it.
So, do not think that how would you compete for the authority sites. Google gives love to quality content (although it takes time) but ultimate success is for those who share value.
However, if you think that you have a medium-level grip on the niche and still you want to start it then the rule of thumb is simple.
Opt for the medium-level keywords.
You will definitely rank and get an audience.
Here, we have added some niches which make the most money in blogging.
Is your niche one of these?
Food Blogging and self-finance are the niches that are the most profitable.
Now don't think that you cannot grab success as these are pretty much saturated.
If you invest your time or money then succeed there. It takes time to get traction but once you are in, you are in.
Don't waste time! Start your blogging business today, this is one of the best blogging tips.
Myth 7. Blogging Is Dead – Blogging Myths
You see a lot of blogs launching every day; what does it imply?
It means people are still making money out of it.
The notion that blogging is not more has been created by those bloggers who wanted to grab an instant success but faced reality. The reality is that blogging is the other name of patience.
So, never think that blogging is no more! RIPHire Our Blogging Specialists Just in $15
It is still working and when it works, it blows the minds of the bloggers.
Let's do the analysis!
We searched how to start a blog and blogging in Google Trends.
Although there is a decrease over the past 3 years it is very steep. Let's try another word!
See, the trend is almost the same with minor changes and it is going up now.
It simply means that people still have a large interest in blogging and they trust it!
We are improving this page. If you have some suggestions then kindly comment and we will reply.
Final Words
Content is king, paid ads, being a writer, long blogs, and niche saturation are blogging myths you need not focus on. Blogging is a lucrative business and these myths are killing your passion to earn from blogging.