I signed in my Fiverr profile yesterday and this is what I came across. "Check if you need to fill out Form W-9 to keep your Gigs active. You got 30 days to check".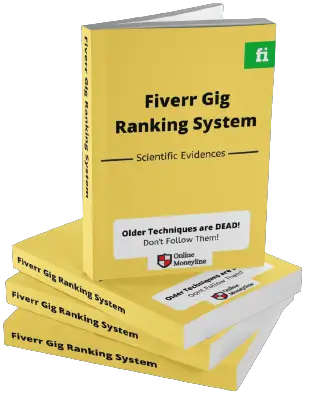 Gig Ranking Secrets NOT Available Anywhere Else!
First things first: Do you know how sellers receive payment on Fiverr or what payment options are available?
Before I read it properly my phone rang and my friend (who is not from (USA) was shouting all at the top of her lungs and said,
"Do you know Fiverr is gonna hide gig impressions, clicks again"?
I said!
"Yeah, I was just looking at the top barrrrrr" (While saying BAR, I looked at my Fiverr profile and found that it was nothing like hiding gigs impressions – it was to fill a tax form"!
I merely hold my laugh as I didn't want to make her feel that she was ignorant.
Anyhow, I just told her that it is jut to fill out Fiverr form and which is a normal and pretty simple process!
1. Instructions for Non-US Person – fiverr w9
What to do if you are not from the USA?
Just follow the steps below.
Click Let's Check.

You will land on the below page.
Click No and the Save.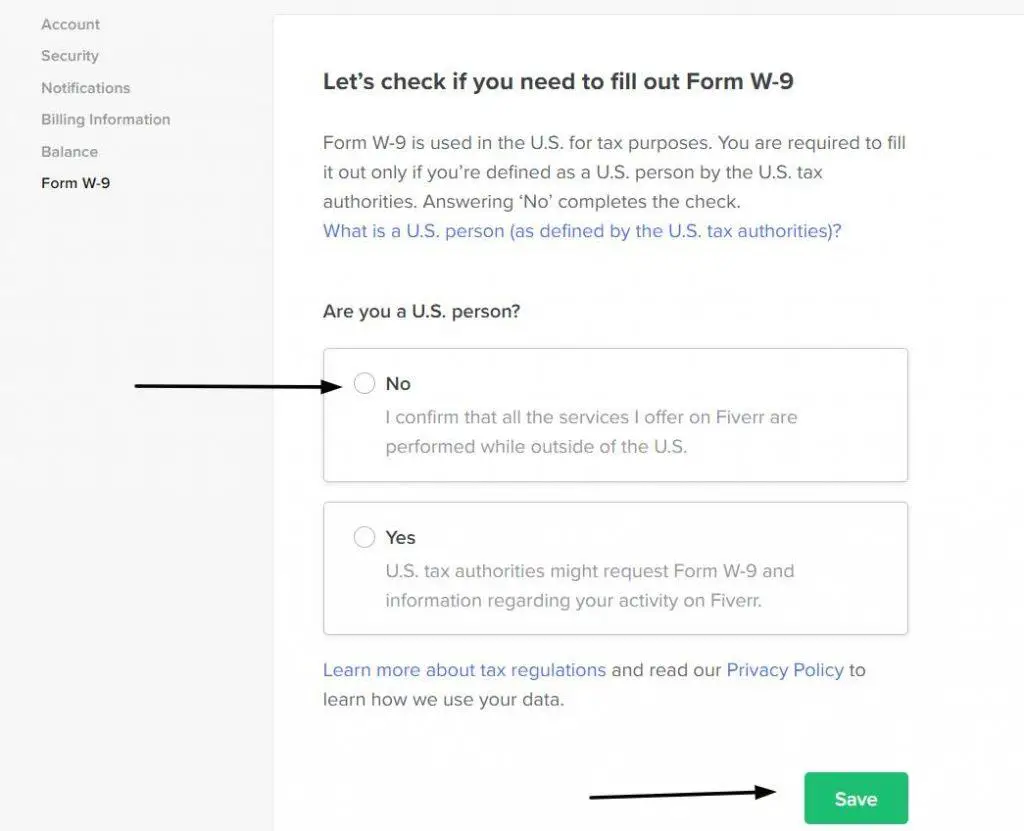 This screen will appear and you are all done.
You might also be interested in Write Fiverr Gig Description! Best 21 HACKS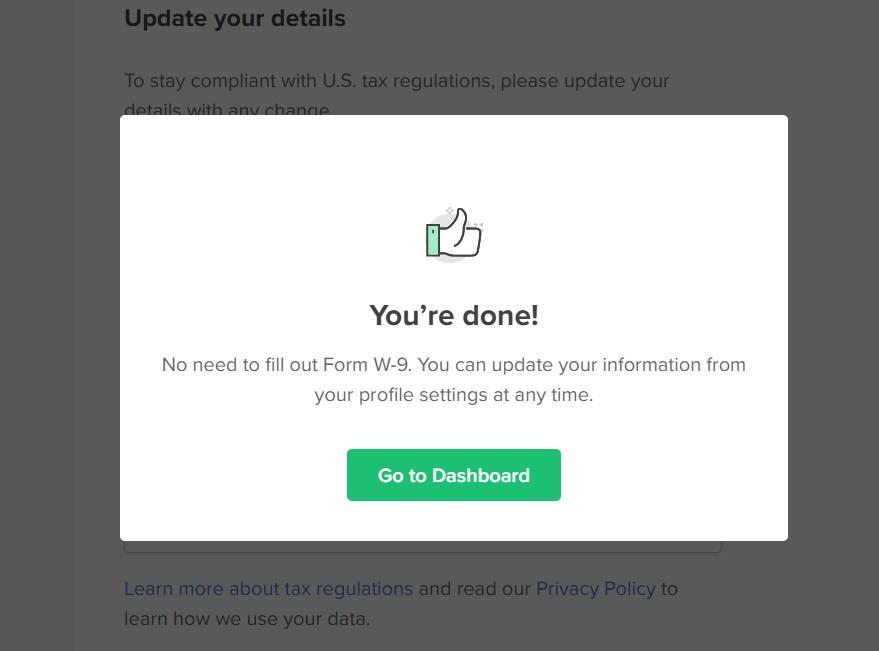 It's done for the non-US person.
2. Instructions for US person
Click here or you can learn more after clicking the tax regulation link given in the bottom.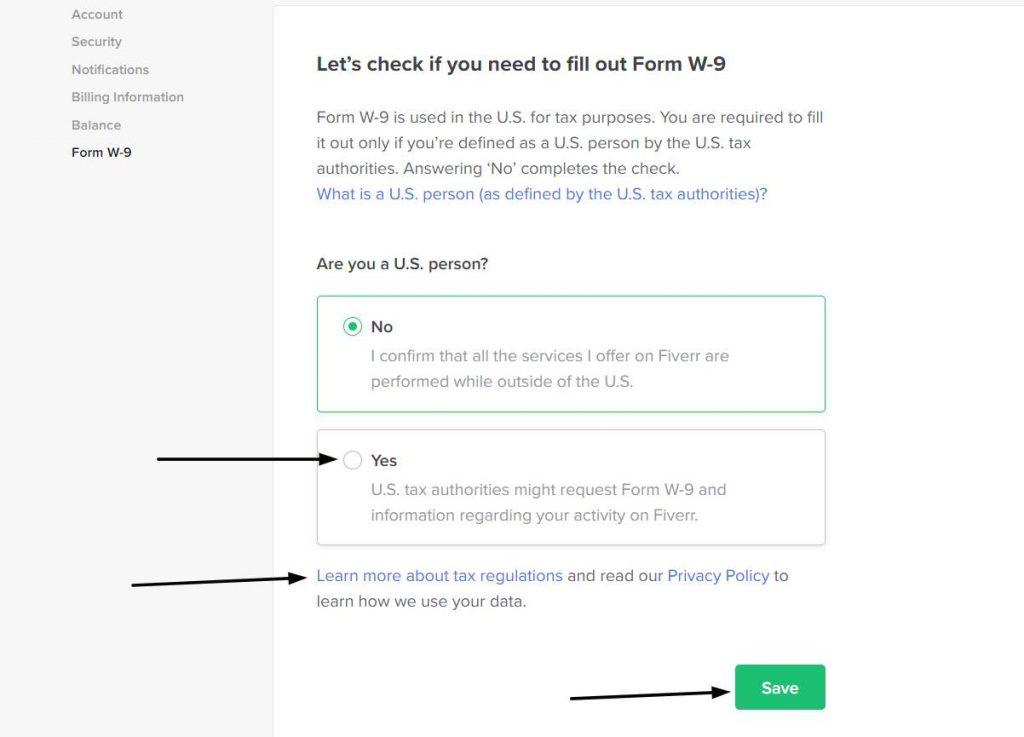 You will be directed to fill the form which you need to fill out. Being a US person you must have filled this form earlier but if not the kindly go through the following video.
Note: These are the basic instructions and your form may look different so kindly learn all the instruction form Fiverr and take Fiverr as the first source of the knowledge. We are not responsible if you make mistakes in the process.
3. Get Instant Payment – fiverr w9 form
Another feature has been introduced in Fiverr which says to get instant payments on Fiverr.
You have to pay 1% Fiverr commissions and you will get you paid instantly.
This option is there for Level 2 sellers only.
4. how long does fiverr take to review w9
Normally Fiverr does not take more time to review W9 and you will see instant review and approval if it's fine. However, if you face any difficulty then feel free to contact Fiverr Support.
Recommended: Fiverr Autorefresh: Stay Online On Fiverr 24/7 & ALERT
5. Less Than 18
Fiverr has requested a w-9 form. I'm just 16 but don't pay any taxes in New York. so, what should I do now?
Fill out a W-9 form and mail it to them. Why else do you believe you are exempt from paying taxes, is a key question. 
I've seen children as young as ten years old that owe taxes. One amongst my clients was indeed a 16-year-old supermodel who owed the government a large sum of money. 
You will only not pay income tax if your earnings were smaller than your parents' tax allowance.
"Typically, a child filing as both a dependent is unable to claim the entire standard deduction but should instead claim a lesser amount." 
The decreased personal allowance is calculated based on the child's earnings, which itself is calculated as the sum of something like the child's salary, wages, bonuses, self-employment income, and also the percentage of scholarships utilised for living costs, + $300. 
The lowest deduction is $950, and the part payment is indeed the ordinary standard amount for just a single individual, which would have been $12,000 in 2019. 
In either scenario, if a dependency is blind, he can increase his deduction by $1,450 ($1,150 if coupled).
Final Words – w-9 form fiverr
Hope it helped
Good Luck with your career and I have to tell you these things to my friend yet!
She takes too much time to understand simple things.
Thanks for visiting OML. If you got questions, kindly comment and we reply.
Good Luck!!
What happens if I do not even finish the procedure?
Sellers from the United States who do not complete the W-9 process within 30 days will have their Gigs stopped. You'll be allowed to reactivate your Gigs as required to fulfill your W-9 form.
Where will the information from the W-9 form be used?
When needed by applicable regulations, Fiverr will issue a 1099 form to the appropriate tax authorities there at the end of each year. 
This now applies to US-based merchants who earned at least $20,000 in the previous year and fulfilled at least 200 orders.
Is a "tip" regarded as a distinct transaction inside the context of the 200 transactions?
Any transaction, including tips, contributes to a total of 200 transactions. Your generated more revenue and tip income will be listed on 1099.
Check out some SEO gigs and tips to become successful on Fiverr.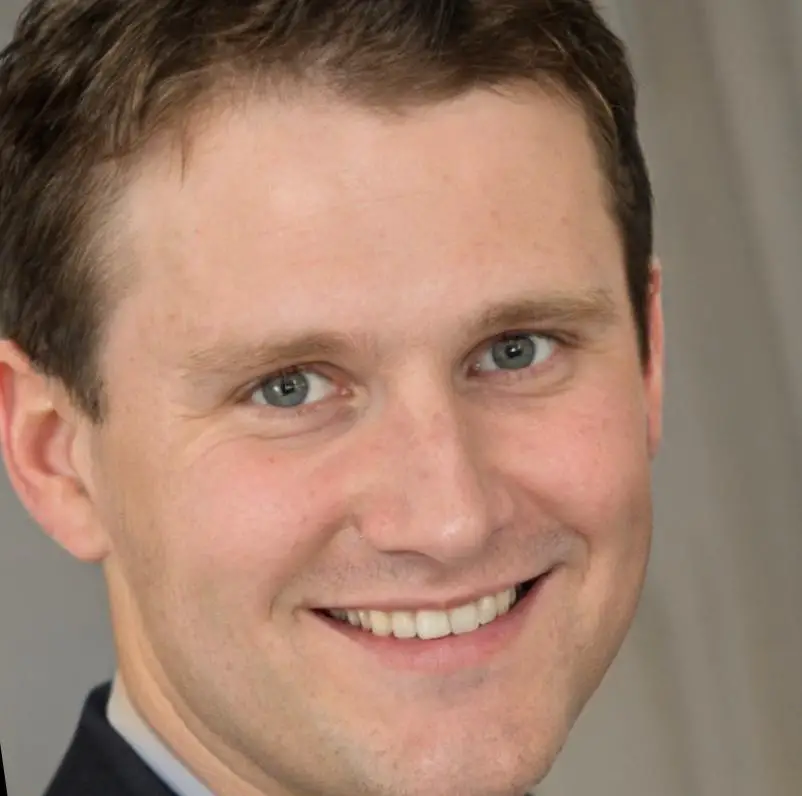 Authors: Jack John & Alexa Smith
Jack and Alexa have been working in the online earning space for 4 years and have interviewed multiple Upwork, Fiverr sellers to get the actual insights about these freelance platforms.
Chief Editor & SEO Auditor: Adila Z.