Let's make one thing sure! Tips that you frequently see on different platforms to get better "Fiverr Gig Ranking" are either FALSE OR OBSOLETE!
Fiverr Gig Ranking!
How to rank gig on the first page of Fiverr?
This is a burning question no matter what is the level of your experience on Fiverr. Do you know why every seller is curious to know the exact and well-researched answer to this question?
Fiverr did not give any detailed, researched and logical guide on their gig ranking system yet!
What can we do then?
We can get insights with deeper research to make sure we are on the right track!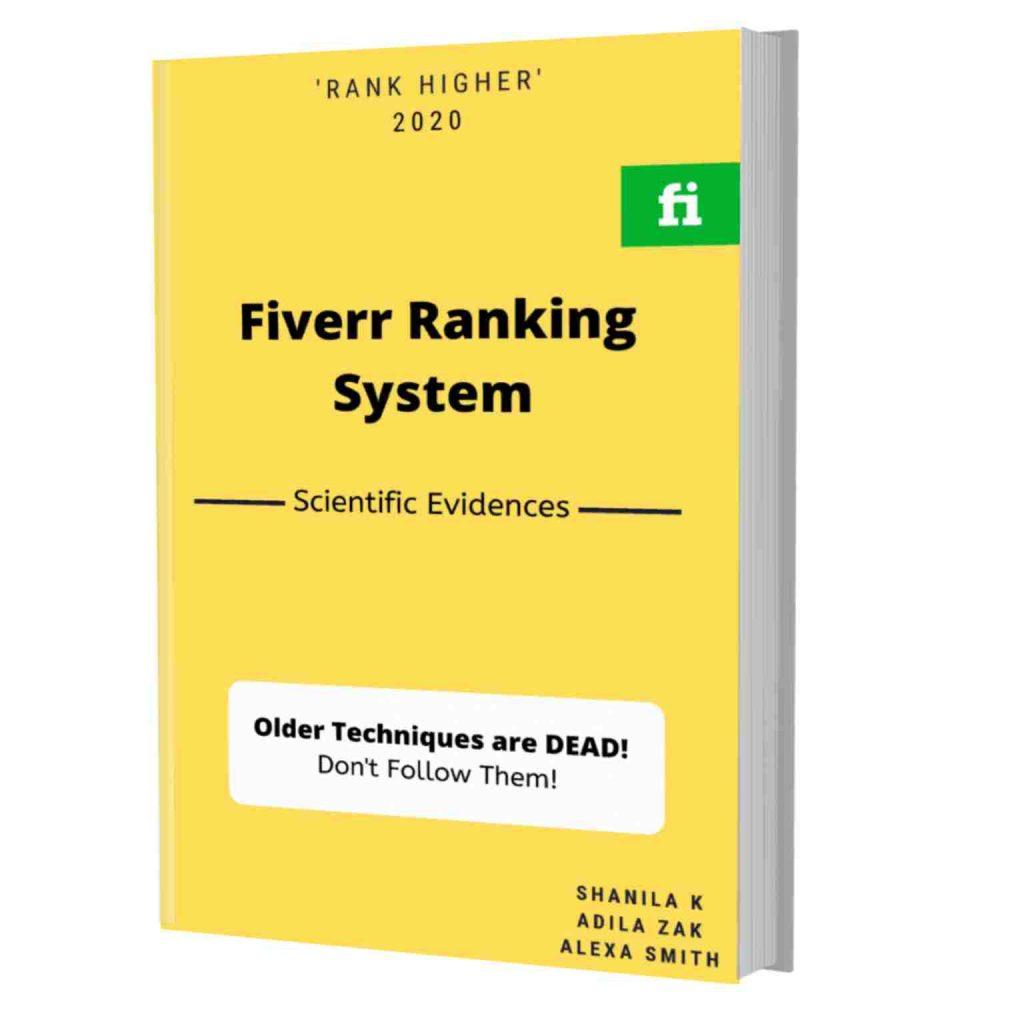 Keyword Addition in Gig is a Tiny Ranking Factor in Fiverr!!
Know 2020 Fiverr Ranking factors backed with Scientific Evidences!
Tips Which Everyone Gives to Rank a Gig Higher in Fiverr
There are like 4 to 5 most frequent tips which we see almost everywhere!
Keyword insertion! (False)
Stay online (False)
Attaining higher selling level (False)
Increase average selling price etc. (False)
But!
The wonderful thing is that none of them is really a strong ranking factor on Fiverr.
How can we say this?
Well, we have both Fiverr sellers and buyers with us who have more than 4 years of research experience on Fiverr.
We keep on noticing different trends of Gig ranking and we also invested dedicated time only to understand the gig ranking system in Fiverr.
Make Maximum!! Work Less!!
How I established a 5 Figure "Freelance Business" from Scratch in 1 Year!
5 Fake Tricks to Rank Higher on Fiverr First Page in 2020
Yeah!
There are a number of Fake and outdated information about Fiverr on the internet.
The thing is that people are just pasting some wrong information without getting into the research. However, we have conducted deeper research on different Fiverr services pertaining to hundreds of gigs.
What did we get?
The actual Fiverr gig ranking factors which mean we explored a number of working Fiverr algorithm 2020.
Do not get overwhelmed!
Fiverr is actually a big market place where only a few are actually making too much (millions). Most of the sellers stay behind and keep on waiting for the first client when you do not know the right way to earn from Fiverr.
No!
We did not mean to disappoint you but we know that it is our responsibility to give you the right information so that you can save tons of your time.
Remember, never waste time in your life and always invest your efforts in the right direction.
#1 Getting Instant Orders
Well! Well! Well!
Does it mean that if you do not get instant orders on Fiverr then your gig will stay at the bottom forever in the Fiverr search?
Does it make sense?
We agree that getting orders gives a boost to the gigs but saying that instant orders when your account is new will keep your gig at the top is really fake news.
Also, we have seen people suggesting taking orders from your friends. We do not recommend it as Fiverr not so innocent. If you got caught RED-HANDED then both the account of your friend and yours will be blocked.
So, if you are a professional and know that you have guts then keep the price low and wait for the actual client.
Believe us lower price attracts the buyers on Fiverr like nothing else.
#2 On-page SEO and Keyword Addition
Hold on!
Fiverr is not Google!
There are old school techniques that people follow on Fiverr and think that it works the same way as Google works.
Let us understand in another way!
See, Fiverr is not information giving search engine where people just come and get the best info and then do whatever their intent is.
Fiverr is a market place where the administration of the website focuses on getting the maximum sale and the best client BUYING experience so that they can come back.
So, keyword addition is an old school technique to be mentioned as a Fiverr ranking factor in 2020. The Fiverr algorithm 2020 is far more advanced.
The funny part is that keywords are no more a big ranking factor even on Google like they were in the past.
How can we say this?
We have conducted deeper research and also provided proofs in our ebook. (You can purchase our eBook "Fiverr Ranking System" by contacting us or from Lulu.com in just 12 USD.)
We noticed that most of the gigs which rank at the top do not even have keywords mentioned in the gig which we searched in the search bar of Fiverr.
It is unbelievable if you follow unscientific Fiverr bloggers and You Tubers but it is actually true!
#3 Addition of Search Tags
For God Sake!
Do some work for yourself!
See some gigs which are ranking in some specific keywords and then check their tags. You will find that it is another fake Fiverr algorithm 2020 which people tell you.
Again!
Fiverr focuses on the best buying experience then the addition of tags does not make a sense.
It is good to add tags to let the Fiverr bots know what is your gig about but saying that it is among the top 10 Fiverr gig ranking factors is totally wrong.
Give it logic and understand.
#4 Higher Level Seller
Really?
It means that the sellers who are new will never get ranked or they will rank somewhere in between the long long list of gigs?
Does it mean that the new sellers do not have a place in the Fiverr?
No!
Search for any keyword and you will see a lot of Fiverr Seller from level 1 to new ones on the first page.
Try it!
#5 Stay Online
Well, we were impressed with this argument as it actually makes sense for some of our researchers!
BUT!!
It is again a fake piece of information.
You must be wondering then what actually works! Right?
Well, you know Adsense on our site pays us only a few pennies. (If you are a blogger then you can understand our pain.)
So, we compiled with all our research in the form of an ebook and found INTERESTING FIVERR GIG RANKING FACTORS.
The price of this book is just USD 12 and believe us it will save you from getting off the track while working on Fiverr.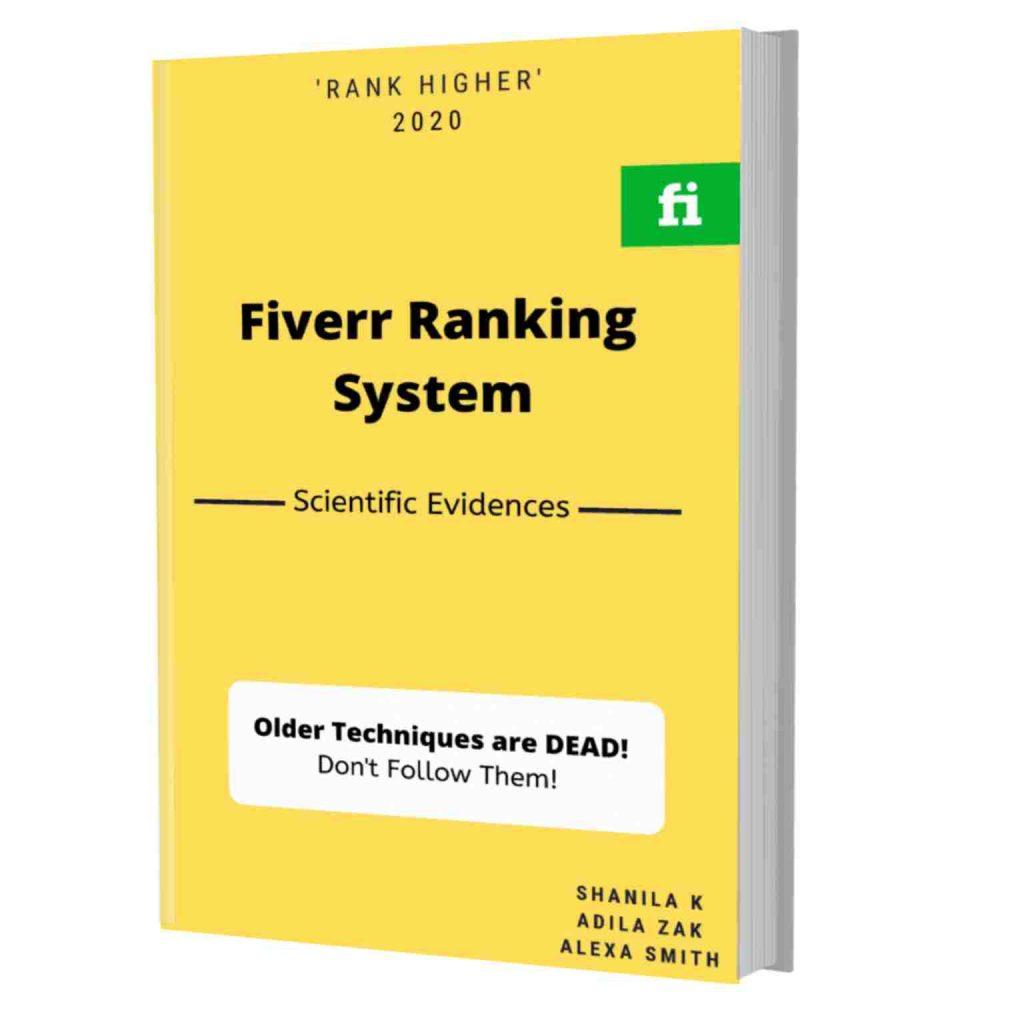 Keyword Addition in Gig is a Tiny Ranking Factor in Fiverr!!
Know 2020 Fiverr Ranking factors backed with Scientific Evidences!
So, have this book and stay away of all those FAKE Gurus who tell you the wrong Fiverr Ranking Algorithm.
After regular experimentation, we found that Keyword insertion everywhere in the title, description, URL and here and there does not let you go higher in the Fiverr search engine algorithm.
It might be an old age technique or some of the sellers might have got inspired from Google ranking system which USED to follow Keywords to rank some page or website higher on the search engine.
Even Google has 200 different ranking factors but most of the old players in the SEO market are still focusing on KW search and all.
The same might be happening with Fiverr or people do not want to share their secret sauce!
Well, we think the basic reason is that every other website owner goes to some other OLDER articles and started rewriting without experimentation.
Those who are freelance writers out there will agree!
Well, you must have made you gig super SEO friendly (with KWs) but still it is not ranking!
Why?
Because it is not the right signal to Fiverr to rank a gig higher.
We examined thousands of gigs (maybe more than that) and found that the KW which we added in the search term was at nowhere even in a lot of top-ranking gigs.
There were some exceptions which were logical as those gigs did not have some other substitute KWs to add into the gig!
We come across tons of Tools to get your gig ranking higher in Fiverr but do they really worth it?
The answer is again no!
We are not against any of the tools; we're sharing only that thing which is the reality which we found after a lot of research! (extensive research)
We often had to face this!
All due to extensive research!
Recommended: 45 Fiverr Mistakes and Solutions
Recommended: Fiverr VS. Upwork: Buyer and Freelancer Perspective
It was only one aspect of breaking the truth in front of you!
To help you in a better way, we have compiled an ebook which is full of value and you will get the REAL TOP RANKING FIVERR SEARCH ENGINE FACTORS to get your gig on the first page of the Fiverr.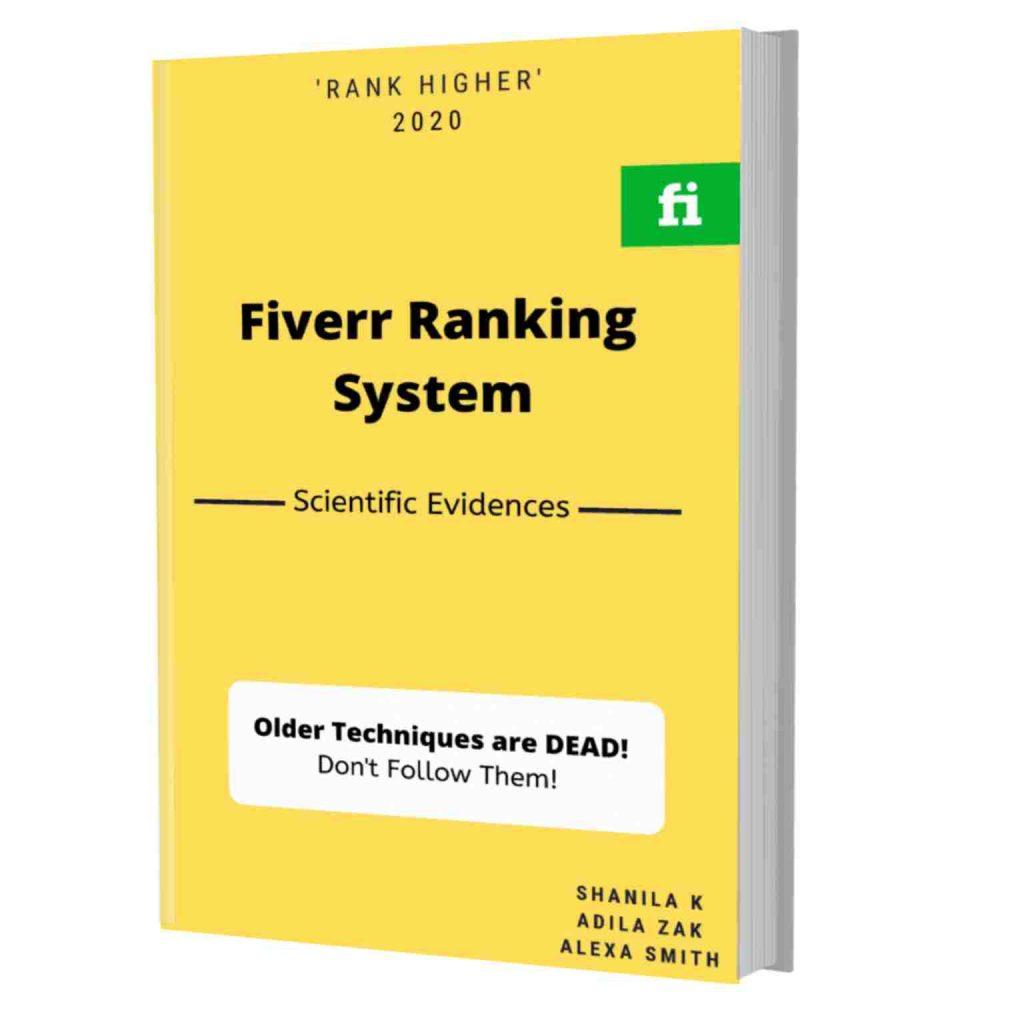 Keyword Addition in Gig is a Tiny Ranking Factor in Fiverr!!
Know 2020 Fiverr Ranking factors backed with Scientific Evidences!
Well, being honest!
We do not type of researchers who claim an instant shift and you will make $20000000000 (I want to add more zeros as others do) in the next month.
This eBook is really valuable for you to save you tones of time and effort which you put on Fiverr.
After all, it's difficult to stay ONLINE and keep on applying for jobs and waiting for the clients!
Well, we went through the same process and set together to help Fiverr sellers to get their gig a better ranking in the Fiverr search engine!
Kindly contact us to get your copy with 40% OFF (12 USD Only).