What is Food Blogging
Well, I must say there are a lot of things which are pretty straight forward but things become difficult at times. The same is the case with food blogging – there are a lot of people who do not know what exactly it is.
Food blogging is pretty much open term to define a lot of activities that bloggers do. I have years of research on food and blogging separately. Today, I thought to combine them both so that the reader of onlinemoneyline.com can get to know how a professional in 2 fields connects these two big business verticals.
 Food Blogging has the following areas to cover and this will be probably the most comprehensive answer on the question "what is food blogging".
a. Cooking Cooking Cooking!
Let me say a food blog is necessarily and strictly NOT about cooking. It is a lot more than that and cooking and working in the kitchen is just one aspect of it.
A food blogger takes care of a lot of things when it comes to blogging about food. You might have seen recipe blogs, cooking blogs, travel food blogs and so on.
All of these blogs have special purposes and they serve a specific type of audience.
Let's take the example of a food blog that you want to start.
You have an interest in cooking then your food blog with be all about new recipes that you like and share with the audience. Most of your followers will be females as they have more interest in cooking and stuff.
b. Niche Food Blogging Subjects
Niching down a specific area is a powerful marketing strategy today. So, a food blog may focus on some special aspects or maybe handling some angle of food blogging.
Let's take an example!
A food blogger may be a person who shares street food recipes or he or she might be filming grandma recipes.
Now, either of them will have a specific set of audience. There are a lot of food bloggers who only give reviews about the taste of some restaurants and people follow them due to having similar interests.
c. Overlapping Subjects
There are some food bloggers who mix up their interests. Like if there is a photographer and he/she is fond of food as well then he/she will try to be an expert in taking professional pictures of food to use as a food blogger.
So, you got the answer to the question "what is food blogging".
How to start food blogging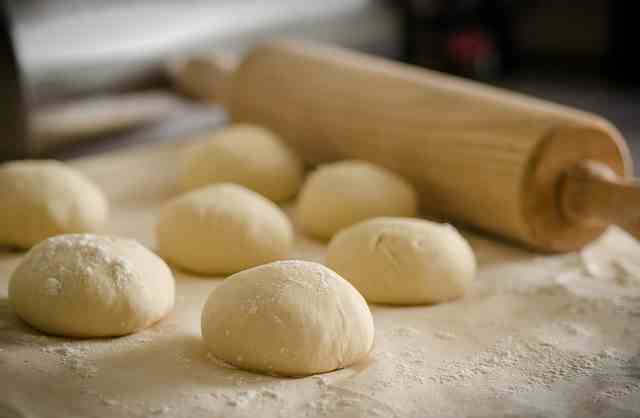 You must be wondering how to start food blog or how to start a food blog and make money.
You must be getting a lot of suggestions on how to start a food blogging but a lot of information confuses you. Right?
This post is a detailed guide on the best practices so that you can start your food blog with maximum ease and less confusion.
Being a website foodie, developer and designer, I think I can present a better suggestion. Isn't it?
Step 1: Should I Hire a web designer or start a food blog myself?
This is the first question that comes into your mind.
Well, I will suggest do it your own!
This is the simplest answer which I thing is pleasing for you to read. However, I have something more!
The other pleasing thing is that it is not difficult to start a food blog by yourself as the internet is full of information.
You will have to have a domain name that costs $15 per year and a hosting which is almost $3 per month. The theme is optional – if you can invest then go for a theme and its cost starts from $30.
We prefer to test the system first. If it works for you then go for it!
It means do not invest a lot at the very start.
Still, if you want to hire a website developer then you can hire a developer for a food blog. Just click and see how dedicated we are to deliver the best services ever.
Charges start from $200 (excluding hosting and domain name)
Step 2: Select the Right Platform
A long list of content management systems confuses you and it is normal.
You will hear about Blogger, Joomla, Drupal, and WordPress but being straight, WordPress is the best and wins the race.
Why choose WordPress?
It is flexible and you can do anything you want.
Free – I think this should have come in the first place but I put it on the second as when you are starting a business then investment price should not be your top priority.
The availability of more options and a huge number of plugins make it the best CMS in the world.
You do not need to mess up with coding and other complicated stuff. Your 9 years old kid can handle it with ease.
Language is also not a problem in WordPress. It is available in a number of languages and you can start food blogging in any language you want.
Click here to see the pros and cons of WordPress.
Step 3: Domain Name Selection
A domain name is the name of that web place where you are working. Like in wwww.google.com, Google is a domain name that is unique and none of the other domains match the same URL.
Now, it's time to select the domain name and there are a lot of things which you should keep in mind while selecting a domain name:
It should be SEO friendly so that your website for food blogging can rank better.
It should be short so that it should be memorable.
It should show the purpose and the content of the blog so that the audience can understand what it is all about.
Step 4: Get an Honest Hosting Provider
Note: We are affiliates of some of the hostings mentioned here. However, you will get an honest advise. You can also contact us in case of any issue in set up or hosting advise. We normally respond within 24 Hours.
Buying a reliable and honest hosting is a tricky area as there are a lot of affiliates who focus only on their commission. So, they modify your opinion to make you buy what they want.
Here, you need to make a safe decision as hosting is the most expensive thing which you will purchase while creating a food blog.
Well, this website has been hosted on Fastcomet and we found them really reliable and they give quick support.
You must be thinking I am promoting them. Well, yeah I want to do that but I want to let you know that Fastcomet is a bit expensive option as compared to the other hosting providers. Maybe this is the reason that they are present 24/7/365.
See the pricing in the image below.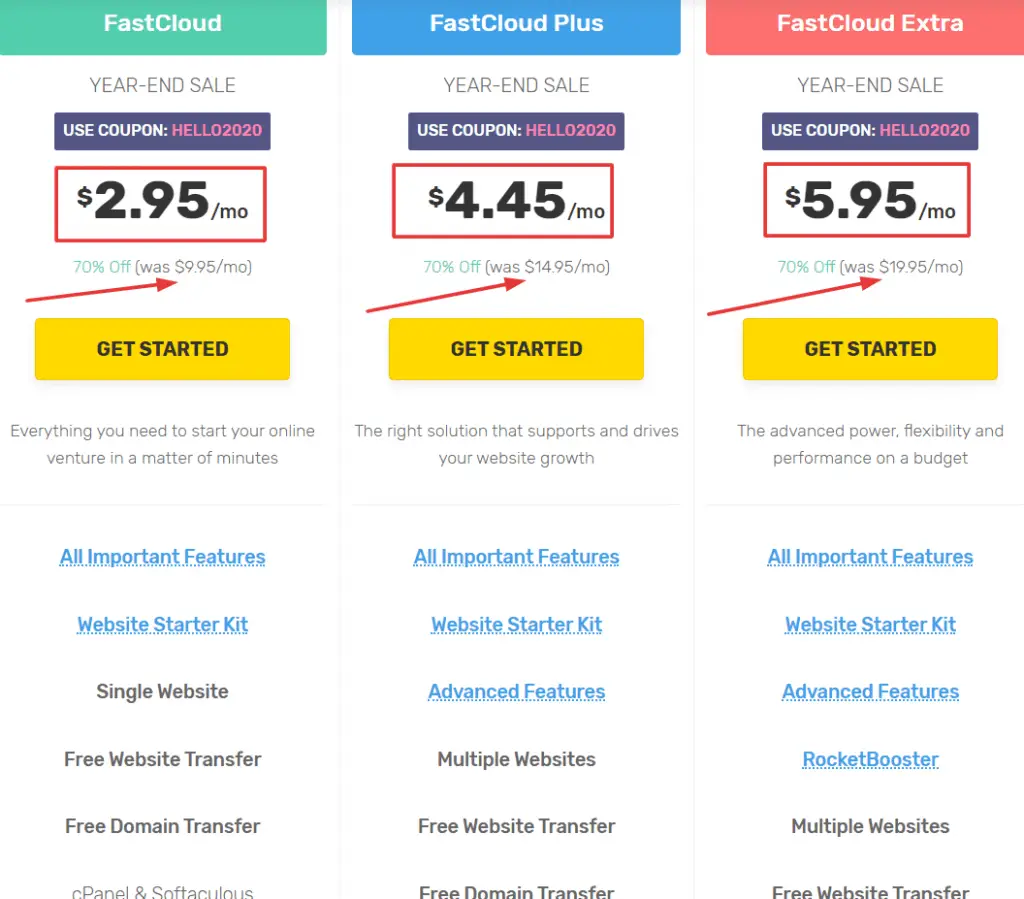 Click here to see their latest pricing for Shared Hosting.
They also provide demo hosting services.
Whenever we wanted to make changes to our website Cpanel they helped us. In fact, in a lot of cases, it was not their business but still, they were there to help us the best.
They were having to promote the offer and we purchased this hosting in less than $100 for a year but now we have to pay around $175 for the renewal. We purchased multiple website plan but you do not need it.
You should opt for one website plan at the start and then upgrade it according to your income. Here is a screenshot of their pricing.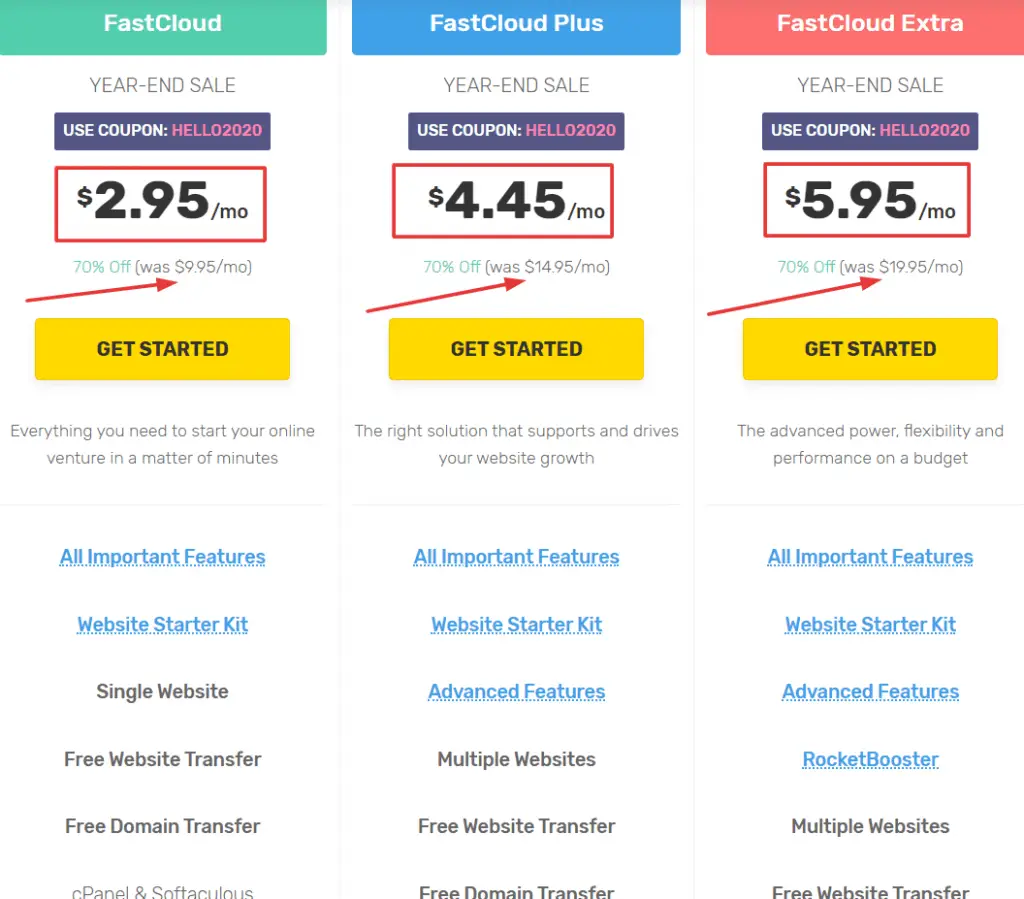 They have plans from $10 to $20 per month as renewal price which makes $120 to 240$ per month on shared hosting. The free domain for the first year is also a bonus here.
It is one of the most reliable hosting providers and you will see them everywhere. Yeah, they are providing hosting to 3.6% of the website all along with the web.
Bluehost is reliable and a lot of affiliates are promoting them. They have offers which you can take advantage of and also they give support. However, you will have to wait longer to get in touch with customer services.
They have different packages ranging from almost $8(8*12= 96) to around $24(24*12=288) as monthly renewal charges. The free domain for the first year is also a bonus here.
Take a look at their packages!
Most of the websites have been hosted on Godaddy and if I talk about the stats then more than 15% of the websites are on their servers. After listening to a lot about the Bluehost, (yeah, you will see it a lot), it seems strange but it is a reality that it is the biggest hosting provider.
The basic reason is its being low cost and providing some other benefits. In terms of support, you have to wait long (really long) to get in touch with the right person. They also provide a free domain name for a year.
Their hosting plans range from around $10 per month to almost $25 per month. Here is a screenshot of their pricing.
Step 5: Use Tools for Performance Tracking
There are some free tools which you should definitely go for.
Google Analytics and Google Search Console are the best tools that help you track your performance.
Do not get into more tools; you need only two of them at the start.
Step 6: Install Some Plugins: Really?
See, Plugins are not needed actually as most of them are wastage of time. We prefer you to go Yoast SEO plugin if you are new to SEO. Do not fill your website with a long list of plugins as they lower down your website and also challenge the security as well.
Step 7: Write Write Write!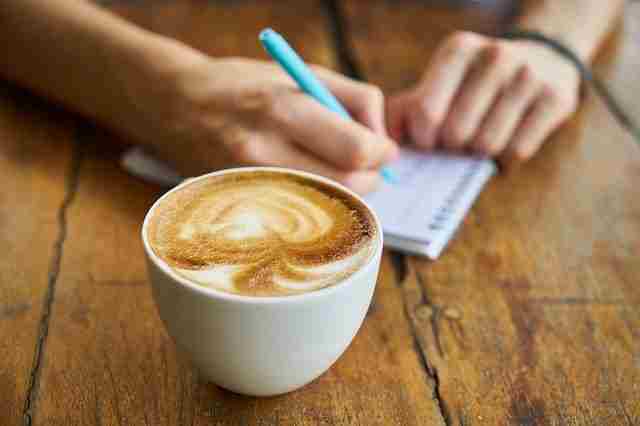 Now, it is a difficult part if you do it yourself. Start writing posts if you want a higher ranking on Google. Again, do not get into the marketing offers and promotions. Writing is an easy task and you can do it.
Just keep things straight and be honest!
We recommend you do it yourself but if you want to hire a writer then knock out Adila Zak. She has incredible reviews and is honest as well. She charges $1 for 50 words. We recommend 10 posts at the start (1000 words each). It will make $200 but you will really start feeling a good return on investment. She will also help you in your WordPress setup for free.
You can also hire a freelancer from Fiverr just in $5 to do the writing work for you.
Step 8: Promote
See, if you are not good at marketing then your business will suffer the most in today's world. Everyone is online and marketing should be more than half of your business efforts.
Moreover, people get attracted to advertisements and they start buying from you which is the ultimate target of every food blogger.
Do promotion for brand awareness initially and then start promoting your services.
There are two way to do marketing:
Paid Marketing
Free Marketing
Both of them are great but there is a difference between the way of implementation and the time to deliver results.
a. Paid Marketing
Social media and different search engines are great in paid marketing. You can invest in Facebook Ads or Google Ads.
Initially, we will recommend Facebook Ads. You should be aware of the fact that where is your target audience.
Most of your audience will be on Facebook and Instagram.
So, invest most of your resources here.
You can also contact some influencers and Instagram is a hub of food and fitness influences. Promote your food blog there.
b. Free Traffic
Again social media and Search Engines!
SEO (Search Engine Optimization) is the best free tool which drives targeted traffic to your website. Learn it or hire an SEO expert.
Contribute to social media and stay active there. Build your audience and stay in touch with them. Write creative social media posts and you are good to go.
Note: you cannot share your affiliate links either on Facebook or on Instagram. So, share links to your posts on the pages and on your profile. Request your friends and family members to share the links on their profiles as well.
Additionally, contribute to the answer and question website and do not forget to add links to your websites there.
Best food blogging websites
It is difficult to cook without the knowledge and the internet is the basic and prime source to give information about any type of cooking. We follow different food blogs depending on our taste and ethnic background. Here. I have compiled the list of top 7 best food blogging sites:
Cookie and Kate
Website: Cookie and Kate
The time I opened the website for the first time, I felt like this is some food fashion blog!
Looks strange?
It is!
The white theme of the blog makes it clean and the food looks like walking on the ramp. Clear (I have to say it again) and sleek look of this food blog attracts the attention of visitors.
Honestly, being one of the top-rated sites in the industry of food blogging, Cookie and Kate is working marvels here. Kate loves cookies and she shares some out of the box cookie recipes. She has been working here in this food blog for the last 9 years. Here, you will find vegetarian recipes, different types of Cousins and Healthy diet recipes too.
Love and Lemon
Website: Loveandlemons.com
See the interface of the website. The top menu text font is so small and I think they should focus on it!
Let me tell you, I want you to frame your website in the best possible way. So, here you are learning how your website should look like.
However, food blogging is the passion of this family and they took it to the next level after creating this blog. Jeanine Donofrio and her husband share seasonal food recipes most of the times and lemon is their signature.
Yeah, they love to add lemon juice in the dishes and they often do it. The blog has been listed among the top healthy food blogs many times. Basically, you can say it a vegan food blog as most of the dishes have been prepared from raw vegetables.
Smitten Kitchen
Website: Smittenkitchen.com  
Notice the arrows, they have everything just on their landing page. All the things which they need and a visitor can ask them is here at the first impression of the website.
Giving an actual look of a blog, Smitten Kitchen, has a lot to offer in the world of food blogging. There are different categories linked to the best of recipes, books, and videos.
Moreover, they know the taste of New York City and have tasted the affinity of Americans toward food. Smittenkitchen is famous among serious food lovers as this food blog has a lot of ingredients customization options.
You can sort your recipe as per the ease of the availability of ingredients you have. They mainly focus on both Vegetarian and Meat-based food. So, you can say it a vegan recipes blog or healthy food blogs.
Budget Bites
Website:budgetbytes.com
Budget bits homepage tells the visitor what the variety they are dealing with is. Food everywhere and everything has been placed categorically.
The thing which concerns me the most is a graphic of frying pan and egg. It doesn't look professional. I think they should work on it and get some good quality logo.
Moreover, this food blog has a different meal plan, an application and a lot to shop for.
As their name indicates, they are light on your pocket. Beth Moncel shares delicious recipes and is prominent among the community of healthy food blogs.
The thing which makes her work differently from the others is that she not only makes food but shares tips on how to buy the best food and then tells ingredient alternatives as well.
Plus, visitors of her food blog enjoy making food with ease as she takes and manages every recipe in a step by step way.
Simply Recipes
Website: SimplyRecipes
A great landing page!
You have access to everything – social media, main menu, and categories. May be email capture form is missing but the look is stunning.
All about seasonal recipes – simply recipes is famous to use seasonal ingredients in the recipes and it has also been listed among the top food blog sites.
You can see the interface of the website is so appetizing. (Looks like I am hunger!)
They have a special diet section and also offer some cooking courses. They have an active social media presence as well.
Sallys Baking Addiction
Website: Sallys Baking Addiction
No, they are smart Actually!
A perfectly framed landing page which looks more or less like Simplyrecipes. They have a plus point that they have email capture form here.
A perfect food blogging website is here.
Having a fully feminine look of the website, the blog focuses on baking and stuff. They not only share the baking secrets but also share tips and tricks to use tools as well.
I found baking as one of the most difficult parts of cooking and this food blog came to save me!
The site has a separate section of baking tips which you can also use to get ideas while starting your food blog.
The website has a strong social media profile and the interface is quite smooth. Looks like you are into some luxury and soft looking food shopping mall.
best WordPress theme for food blogging
You need a theme for your food blogging website.
Here, we have shared some free and paid themes you can opt for.
1. Best Paid themes for Food Blogging
a. Cookely
Again having a foodie name, this theme focuses on food blogging. (It was understood! What am I writing?)
Well, here are the features!
If you are an organized person and want to have a decently manages catalogs of you're your food blog, then this theme is your ultimate resort.
The availability of simple and advanced features is another amazing feature.
Your website will work amazing on mobile devices (as a lot of your traffic will be coming from the mobile).
Style it your way and get some creative designs to compete with other food blogs out there.
Glutenberg, extra widgets, and MailChimp integration make this theme worth buying for.
Price: $79
b. Meridian Recipes
A stunning theme which has a lot of things to offer to boost your food blogging career.
The theme gives you an opportunity to customize it according to your needs and having versatility in it.
If you have an artistic mind then take advantage of colors and contrast and put them live on the website.
It offers maximum ease for the visitors as there are a lot of features that a website visitor can use to plan the next visit.
Anyone can build an amazing food blog without getting entangled into coding and stuff.
Price:$59 (One-week money-back guarantee)
c. Wonderwall
·       Fit for bloggers and it was designed to have fashion and versatile contents in it.
·       It gives monetization ease and supports a lot of features like Media, AdSense and you can also build your eCommerce platform.
·       The addition of the social following is great and it shows follower count on the website which works marvels in marketing purposes.
·       No coding required – just a matter of clicks and your stunning online food blog will be ready.
Price: $59
 I want to add some lower price range theme here.
d. Food Blog
·       As indicated by the name, this theme is specially made to present your food blogging idea to the world.
·       The capability of showing high definition food images on your site is an amazing feature which you will definitely enjoy.
·       Along with the ease of click-based customization, this food blogging theme enables you to add CSS for further customization.
·       Creativity in focus – the theme gives a lot of options to be creative and get into some designing stuff.
Price: $39
Best Free Food Blog Themes for WordPress
a. Kale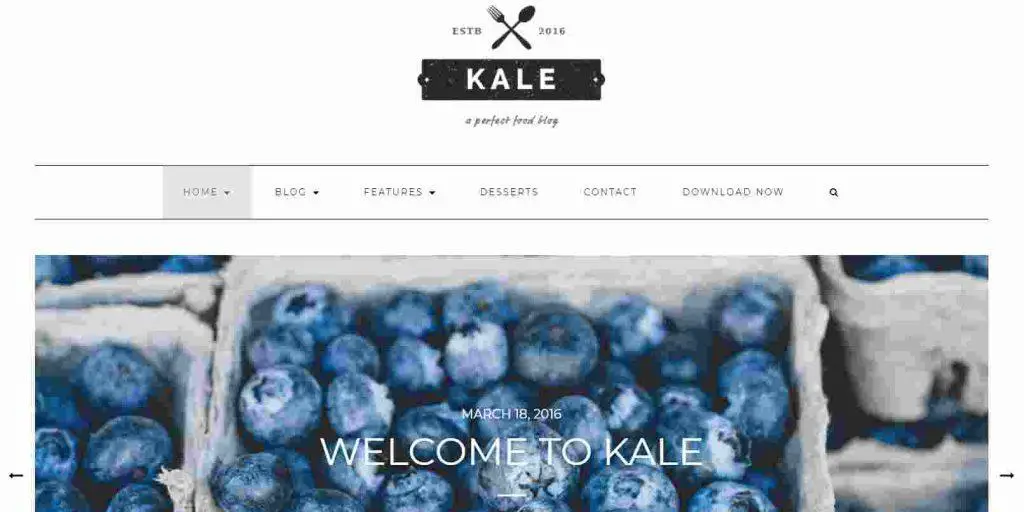 It's really beautiful. Just take a look at the demo below. White theme with stunning features, and custom background, Kale gives multiple options to food bloggers.
You can highlight a post and make it prominent for the visitors.
It offers different styles to display you blog and it is quite engaging.
Social media integration is easy and connectable.
It is an advance theme fully packed with some advance features which only paid themes offer to the bloggers.
Flexible and has a number of post widgets along with the different styles of social media icons.
Price: Free
b. Elara
Another marvel in the context of free themes for food bloggers. Elara (I like the name) is fully functional and grabs the visual attention of the visitor quite instantly.
The availability of standard features makes it a strong theme for any food blog.
Image options are great as you can add tall images which will make visitors hunger just like me. Seriously!
A variety of blog layouts has a homepage banner and sider.
Supports a number of plugins and widgets and is famous for a lot of features including availability of flexibility of branding your food blogging business.
Price: Free
We keep on editing our blog posts. So, if you have some questions then kindly feel free to comment and we will add the answer in the context of this blog post.
It will help a lot of food bloggers on how to start a food blog!
---