If you're wondering how to sell on Fiverr, you've come to the right place. Fiverr is a unique online marketplace where independent professionals sell their specialized services to others or businesses.
How to sell on Fiverr: Overview?
It's been on the internet for a little over a year, and it is already considered one of the top freelancing sites, especially when it pertains to digital products. I will share with you a few tips on what to sell on Fiverr that will hopefully help you sell whatever it is that you want to sell.
Freelancers use Fiverr for is creating gigs. Gigs are simply sections on the Fiverr website where people can pay a specific price for a particular service. The services range anywhere from transcription, graphic design, programming, data entry, accounting, legal transcription, writing, etc.
Step-by-step Guide 2021: How to sell on Fiverr
Go to Fiverr and hit create an account.
Enter your email address!
Select user name and password – Remember you cannot change your user name so make it either your official name or the name of your service.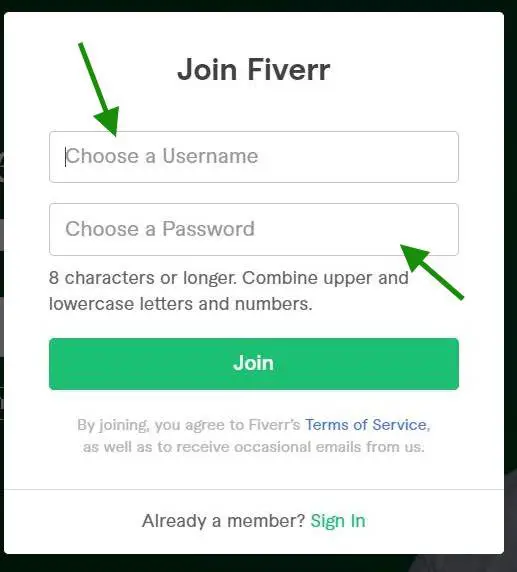 Your profile will be created and at the top right corner you will have a dropdown where you need to complete your profile info.
You will land on a page which will look something like this in the top left hand where you will write your tagline.
It will prompt you to write a description which will show on this place of the page.
How to sell on Fiverr and Create a Gig
All the services shown below are called gigs. These are the jobs which you will do.
You can watch the following step by step video on how to create a gig on Fiverr.
How to create a thumbnail for Fiverr gig
Here is our complete article for this.
How to sell & charge on Fiverr
There is no limit on what you can charge for a gig. Many people use Fiverr to earn extra money while they are continuing to work a regular job, thus eliminating the need for a boss.
Another way that Fiverr users use the site to make money is by becoming an affiliate. By becoming an affiliate, you can choose which gigs you would like to offer and target those buyers. When someone clicks on your link and purchases the gig, you earn a commission. It works the same when individual buyers click on your links; you earn a commission from those sales as well.
How to sell on Fiverr and See Competition?
Seeing what to sell on Fiverr is also simple when you use the platform to search for buyers. You can search for sellers who are looking for what to sell by category, price, or time period. You can also search for sellers by keywords. This makes it very easy for you to find buyers interested in your niche, and you can target these buyers with your specific gig. It's all about looking into the market and seeing what are they offering and what you should offer.
It's important to remember that you don't have to spend too much time attracting customers to your gigs. The best way to make money is to target buyers who are already interested in your niche. That's why many sellers on the site make their first sale for under $5.00. It can be surprising how quickly you can make money if you choose the right customers. And in just a few minutes, you can have a list of high-paying gigs.
How to attract buyers on Fiverr and Sell More
One trick that sellers have used for years to attract more customers and earn more money is to give away free products with your orders
. For example, if you are selling a Photoshop template, you can give it away free of charge so that someone who takes the time to download it and use it is more likely to buy other things from your profile.
So, if you want to learn how to make it, the trick is to offer a high paying gig to build up your customer base. In just a few weeks, you should have dozens of buyers and dozens of repeat customers if you follow the right strategies.
Easiest way: How to sell on Fiverr
Another way that sellers have used to make online living is to offer a data entry gig. Many people like being paid simply to input data into online forms, whether they're filling out forms for customer's or submitting forms to employers.
Sellers can earn anywhere from $2 to $10 per hour for each data entry gig. This is especially good if you have some skill like typing or you know Microsoft products.