43 Best Fiverr Gigs 2021: Fiverr provides a lot of services for the business and industries. Here people can sell their services by providing their niche in the description. However, millions of freelancers belong to the same field, so it is difficult for newcomers to select an appropriate area of interest.
Keyword Addition in Gig is a Tiny Ranking Factor | 100% Money-Back Guarantee!!
Mega Sale Limited Time>>> HURRY!! Book Last Updated: April, 29, 2021
There are several categories under the same niche, so it is necessary to select a top-selling best Fiverr gig and add a killer description of your skills in the gig. This article provides details about best-selling gigs on Fiverr.
You have the skills and want to work on the Fiverr that selects gigs from the mentioned gigs. All the mentioned gigs are the best-selling Fiverr gigs that will surely provide success.
Best Fiverr Gigs Related To Graphic Designing:
1. Custom Logo Design – Best Fiverr Gigs
These are the most popular Fiverr gigs. Its sellers and buyers are also expanding day by day with the emergence of new companies and industries. Every company and business needs a unique logo for their businesses. Logo designing is not a difficult task.
Anyone can work in logo designing with some skill set. Skills can easily be attained by one week of practice on photoshop. Many templates for logo designing are also available on the internet to help freelancers. Many tools are also available for unskilled freelancers like canva provides the services of logo designing with many free templates.
Best 31 Sites Like Fiverr | Legit & Safe
2. Infographic Designer
This gig is the most demanding gig on Fiverr. However, the seller must be creative in providing these services to clients. The task is in the form of points or topics, but the seller should be efficient enough to create infographics. Infographics can be prepared on Photoshop, illustrator, or other online software.
3. Flyer & Brochure Designs
These are best-selling Fiverr gigs that can be produced by any graphic designing software. Flyers and brochures attract the people towards some specific information with showing a difference between both. The brochure consists of multiple folding pages, while the flyer is a single page with information on one side.
The tools used for creating flyers, business cards, brochures, and leaflets are photoshop, Microsoft publisher, and illustrator. There are many templates present on Canva that may provide aid to freelancers.
4. Architecture and Interior Design
This one became the best-selling gig on Fiverr with the increasing trend of online working. Most people are interested in buying the services of interior and architecture designing online as it saves time. Graphic designers specialize in Interior Designing so they could provide these services.
Fiverr proves to be a good site for providing these services. Fiverr provides services like floor designing, map designing, interior décor, and even consultation to clients. It is a more stable and profitable niche on Fiverr.
Keyword Addition in Gig is a Tiny Ranking Factor | 100% Money-Back Guarantee!!
Mega Sale Limited Time>>> HURRY!! Book Last Updated: April, 29, 2021
5. Avatar Creating
This gig is a high demanding gig on Fiverr. A graphic designer with this skill can charge a higher price to clients. It needs unique skills and experience in creating an avatar. The tools needed for creating an avatar are photoshop, illustrator, and many other online tools. It is a highly paid task and the seller can earn handsome money through this skill set.
6. Book Cover Designing
A graphic designer can create a book cover on illustrator or photoshop. It is one of the best niches as it contains less competition with great demand. The seller having graphic design skills can choose this niche for career growth. The seller can earn even greater after gaining experience in this field.
Best Fiverr Gigs Related To Animation:
1. Whiteboard Animation Videos
Whiteboard Animation is a top-selling gig on Fiverr. There is a lot of software available in the market with proper tutorials. Even an unskilled person can learn to use this software in just a week and can start earning money on Fiverr. Software that can be used to make these animations include Camtasia, MySimpleShow, Viderscribe, Renderforest, Doodly, Animaker, and Truscribe. A skilled person can make a video in a few hours for the client and earn up to $100 on Fiverr.
2. Video Testimonials or Reviews
It is very trendy nowadays as it is easy to do. Freelancers can earn money by making a video on a specific product or service and give his/her reviews about that product or service. Freelancers can earn $5 to $154 on a 1-minute video and can increase the charges on experience.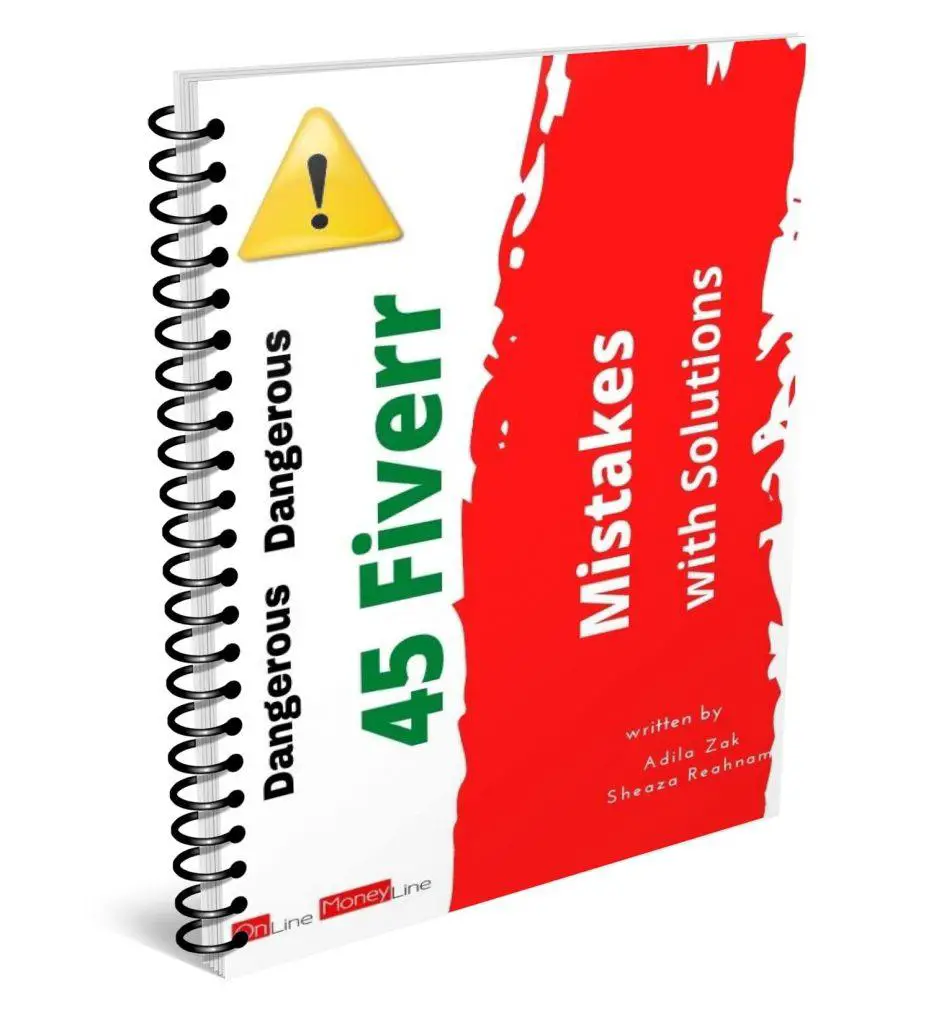 Avoid FIVERR MISTAKES to save YEARS!!
45 Fiverr Mistakes with Solutions!!
3. Spokesperson Videos
This gig is also very popular on Fiverr and does not require any specific skills. The freelance makes the video according to the instructions and script. The client may provide images and videos of the business. The spoken person earns a handsome amount once he/she gains experience in this niche.
4. Slideshow Videos
Slideshow is one of the best gigs on Fiverr with many buyers. It does not require any specific skills or tools. You can transform the picture into a slideshow through software like Picasa, After Effects, Video Editing, Premiere, or other online tools.
Microsoft PowerPoint can also make a slideshow. The seller can learn these tools and start working on Fiverr as a slideshow video maker.
5. Video Editing and Adding Music
It looks simple, but it is a very time-consuming task. People working on YouTube or other video-making sites prefer to hire people for video editing. Video editing is a very popular but competitive gig. You can earn up to $50 through video editing on Fiverr.
Best Fiverr Gigs Related to Programming:
1. WordPress Website Transfer
It is a very popular gig on Fiverr, and it is easy. This gig provides a lot of work to newbies as this category is unsaturated with gigs. In this, all you have to do is just transfer the WordPress website of the client to now hosting scheme. The Duplicator plugin software can provide this service.
You need to install the WordPress software on now host and run the Duplicator plugin. Follow the instructions provided by the Duplicator plugin to transfer it to a new host. It is a very demanding and highly paid gig on Fiverr.
2. WordPress Malware Remove
It is a very popular gig for programmers who know WordPress. It is an essential thing as websites can get malware quickly and disrupts the functioning of websites. The seller skilled with WordPress Malware removal services can split their functioning into two parts. They can sell their services as Malware detectors or Malware remover. Malware can easily be detected by using Sucuri plugin software.
Keyword Addition in Gig is a Tiny Ranking Factor | 100% Money-Back Guarantee!!
Mega Sale Limited Time>>> HURRY!! Book Last Updated: April, 29, 2021
3. Web Development
Web Development is no doubt a very popular and best Fiverr gig these days. Websites are essential for every industry, business, shop, market, even online service provider to access people. A website becomes the best way to provide each service like contact info, administrative structure, and recruitment information.
A programmer knowing the programming languages like Python and Java can work on Fiverr as a website developer. However, this niche requires a lot of training and experience. The seller who wants to work as a web developer can take a course and become an expert in web development.
4. Mobile App Development
Mobile App Development is a highly paid gig on Fiverr as it requires expertise and professionalism. The seller can provide their services as a mobile app developer for a different operating system like Android, iPhone, etc. The person who belongs to this category must pay a lot of time for their services as these tasks are time-consuming and difficult.
5. E-commerce Development
Many programmers are now moving towards E-commerce development as it generates a lot of work for many freelancers. As the trend of online shopping has increased, E-commerce is also expanding. If the seller has the skills, they can create an online store and manage it and can earn a lot of money through Fiverr. The online store development is generating much online work like management and marketing.
Best 31 Sites Like Fiverr | Legit & Safe
6. Game Development (2d / 3d)
Game Development is also a highly paid gig on Fiverr as there is less expertise available on Fiverr. Game Development is a less competitive gig as well. It requires a very professional and expert person. Sellers having experience in game development can effortlessly find work on Fiverr and give a boost to his/her career.
Best Fiverr Gigs Related to Writing:
1. Content Writing
It is a high-demand gig on Fiverr with a lot of competition. However, the number of buyers of this service on Fiverr is also higher than any other gig. Any freelancer who has the skills for writing can provide the services of a content writer. Content writing is a broad category containing many subcategories like technical writing, blog writing, SEO content writing, etc. It is better to select your niche keenly while making a profile.
There are some categories of content writing where competition is not much high. The skills needed to become a content writer are consistency, research, communication, and editing. The new worker should start freelancing by charging a 5$ amount to attract a buyer.
2. Write Standard Website Pages
Websites contain the privacy terms, cookies, and about us page that needs to upgrade on time. These web pages can easily manage through people. The seller can work on Fiverr to provide this service to buyers and can earn a profit. It can provide a profit of up to $15 for each task.
3. Guest Post Writing
It became a very popular gig on Fiverr. Guest post writing provides the services of article writing for websites. The gig has less competition and you can choose a specific keyword while making a gig to attract an audience. The workers can take $5 to $15 for 600 words depending on the expertise and experience.
4. Proofreading & Editing
Proofreading requires document editing services to the buyer. Proofreading is a highly demanding gig nowadays with an increase in its buyers. Many clients need this service for document editing which is time-consuming and tricky work. The seller needs to know the grammar, vocabulary, and sentence structuring for proofreading and editing services. Proofreading is not a much-paying gig, but the writer could increase their charges once gaining experience in this field.
5. Keyword Research
It is becoming a popular and more demanding gig. Most writers write the book and do not focus on the keyword search that affects their sales. The seller can provide this service to any writer and can earn up to $15 for a single task. The profit may increase on gaining experience.
6. Press Release Writing & Submissions
If the seller knows journalism then he/she can start their career as a press release writer. It becomes a top gig with less competition. Moreover, the writer can charge the maximum amount to the clients. Template for press release writing is also available on the internet which provides ideas to freelancers interested in this field. The writer who belongs to this category must be a creative and critical thinker.
7. Product Descriptions
Product Descriptions is also a high demanding gig on Fiverr as it does not require any specific skills. The trend of selling the product and services online creates many jobs for the sellers. The product seller doesn't get free time to write a description of every product so they prefer to buy this service. Fiverr helps both the seller and buyer in this regard. This service provides maximum profit to the seller.
8. Translation Services
The bilingual people could provide this service on Fiverr. The translation is top-demanding on Fiverr as there are not many gigs present on Fiverr. It requires proficiency in both languages to capture the clients. The translator could provide articles, documents, product descriptions, or script translation services to clients. It is not a profitable job, but the writer can increase the charges after becoming more professional.
Best Fiverr Gigs That Tell Digital Marketing Services:
1. Social Media Ad promotion
Digital marketing becomes very trendy nowadays with less specific skill requirements. Anyone who can use social sites like Facebook, Twitter, Instagram can work as an ad promoter. Many YouTube videos are available on the internet to completely guide ad promoters. So you can take help from the internet and opt for this gig on Fiverr.
2. Email Marketing
Email marketing is also a top trending niche of digital marketing in Fiverr. Most businesses require these marketing services as this strategy provides more outcomes. Email marketing includes an Email list generator, Email marketing campaign, tracking metrics, etc. It is a less competitive strategy and much profitable than other marketing services.
3. Social Media Image Designing
These are less competitive and the most popular gigs on Fiverr. Seller provides the services of social media page designing to the client. The client briefs the task description. The worker can take help from the templates available on the internet. Many tools are available on the internet related to designing like Photoshop, illustrator, and Canva to help freelancers.
Keyword Addition in Gig is a Tiny Ranking Factor | 100% Money-Back Guarantee!!
Mega Sale Limited Time>>> HURRY!! Book Last Updated: April, 29, 2021
Best Fiverr gigs related to website optimization:
1. Improve Website Speed
It is a very demanding gig nowadays as websites need optimization after some time. The speed of the website is slowed down over time. This gig offers services like checking the issues and solving these issues. It generates a profit for freelancers, and it is a less competitive gig as well.
2. Technical Audits
The technical audit is one of the popular gigs on Fiverr that provide the right tool. It provides reports to the buyer about the website. The SEO power tool is the most efficient tool that can provide this service. It is a very basic gig, an unskilled person can easily opt for this gig through some training.
3. Backlink Analysis
You can easily provide this service to buyers if you can access Ahref's. This tool is very costly so small business owners prefer to take Fiverr services rather than buying this tool. It is an easy task that's why it has become popular nowadays. An experienced person can easily earn a profit through this.
4. On and Off-Page SEO
Search engine optimization is the most selling Fiverr gig. On-page SEO deals with the ranking of the websites. It provides the services to rank your web page at the top of the search engine. Off-page SEO helps to maintain the website's authority. It includes link-building services.
5. Google Search Console Creation
It is also a top trending gig on Fiverr. It provides the services of website analysis. The service provider gives a detailed report of the websites to the buyer and resolves the issue if present. Freelancers who want to opt for this gig can learn through YouTube and online courses to start working.
6. Backline Indexing
It is also a very popular gig on Fiverr. This gig provides the service of collecting the links of the buyer. Backline indexing may be through software like pignfarm. The freelancer can make an RSS feed or URL for indexing the links.
7. Send Traffic To The Website
It is not purely an SEO service but is also a very demanding service. Freelancers can work on this service by using many tools like TrafficBot. This tool transfers traffic to a specific domain or page. You can learn it in just a week and can work on Fiverr with this gig.
Best Fiverr gigs related to business administration:
1. Virtual Assistant
These are the best-selling gigs on Fiverr. Many businesses nowadays take an online service from freelancers for their time management and other tasks. Freelancers have an opportunity to work part-time or full-time and can provide their services from anywhere around the globe.
The tasks are varying from business to business, but the main work is to manage the activities. There are many online courses available on the internet that facilities the freelancer to learn a skill and upgrade their knowledge as a virtual assistant.
2. Data Entry
It is a popular and easy task that anyone can do. You can start working in this niche with a little beforehand practice. However, there is a lot of competition in this niche. Freelancers must make unique and appealing gigs to attract buyers towards their gigs.
3. Voiceover
It is an easy but quite popular gig on Fiverr. If anyone has the skills of voice-over, he/she can provide these services to a buyer. It is also a competitive gig so you will have to make an appropriate gig to attract the client.
4. Tax Queries
It is an emerging gig on Fiverr nowadays. The tax affairs are very complex that cannot be managed by the layman. Most people take
help online from the freelancer. Tax queries gigs can be a profitable earning platform.
Digital Download/Products:
1. Fitness Plan
It is a popular niche as the trend has increased towards a healthy living lifestyle. The freelancer who is an expert in fitness plans can provide this service to their buyers through Fiverr. These services vary with the buyer's needs like the client is interested in weight loss, muscle top-up.
2. Diet plan
It is also trending nowadays. Many people buy dietitian services online because they have no time to consult doctors. The buyer must provide the necessary information about the weight and food of interest. Freelancers can help them in choosing the right diet plan on Fiverr.
Keyword Addition in Gig is a Tiny Ranking Factor | 100% Money-Back Guarantee!!
Mega Sale Limited Time>>> HURRY!! Book Last Updated: April, 29, 2021
3. Tutorials
Writes can choose this gig as it is top trending nowadays. The writer writes a short guide about any book or software and can sell it on Fiverr. By this, you can earn up to $15 on a short tutorial.
4. Greeting Cards and Videos
It is becoming the top trending as the people have no time to make these things on their own. Freelancers can provide this service on Fiverr to earn money. The gig must contain a sample card or greeting video to cater to clients.
Final Words – Best Fiverr Gigs
Fiverr is full of unique talent and skills. This article deals with the best Fiverr gigs, and this list is expanding very fast. The advancement in online work creates more gigs day by day. Anyone who wants to earn money on Fiverr just looks at this article. He/she will surely get a gig for yourself. Good luck:)